PEG used as anti-counterfeit marker in pharma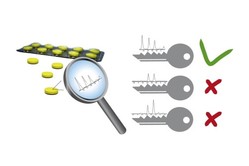 Researchers in Germany have developed an on-dose marker technology based on polyethylene glycols (PEGs), a commonly used pharma excipient.

The team describe a technique in which they incorporated combinations of PEGs within the coating of tablets to create a unique code that can be used to authenticate the dose using a liquid chromatography/mass spectrometry (LC-MS/MS) method.

"Several batches of these PEGs, each batch being monodisperse with respect to its molecular weight, served as the basis for coding, and specific codes were 'written' into the coating of the drug product itself," write the researchers in the European Journal of Pharmaceutics and Biopharmaceutics (February 2016).

The tamper-proof code used is only known to the marketing authorization holder (MAH), and so each individual tablet or other coated solid dosage form becomes fully traceable "down to the campaign or even the batch level," they note.

Current efforts to guard against counterfeit medicines often focus on serialization of the secondary packaging which - while providing a substantial improvement in patient safety - do not allow the tracing of the individual unit.

The PEG coding approach is limited however to cases in which PEGs are not present for formulation purposes as excipients. PEGs are only used in around 20 per cent of capsule and pill products, however, so the scientists believe "rapid translation of this anti-counterfeiting approach appears feasible for existing medications or drug products in development."

The researchers - from the University of Wuerzburg and the Kliniken der Stadt Köln - were supported with a grant from chemical and pharma group Bayer.
---
Want our news sent directly to your inbox?

---
© SecuringIndustry.com
comments powered by

Disqus