Obama signs Drug Quality and Security Act into law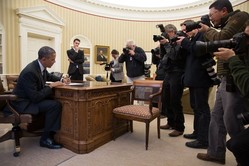 President Obama has signed H.R. 3204 into law, setting the wheels in motion for the FDA to develop a national track-and-trace system to secure the pharmaceutical supply chain.

The aim of the Drug Quality and Security Act (DQSA) is to "minimise opportunities for contamination, adulteration, diversion, or counterfeiting," whilst also clarifying the FDA's authority to regulate compounding pharmacies, according to the White House.

Senator Tom Harkin (D-IA), who introduced the DQSA into the Senate, and the legislation "will dramatically improve the safety of compounded drugs and will also establish an unprecedented tracing system that will track prescription drugs from manufacturing to distribution."

The passage into law starts the clock ticking on the introduction of full traceability for medicine packs through the supply chain within 10 years with a requirement for all drug packages to carry a serial number within four years.

Of course, there are still unanswered questions that will exercise the minds of those tasked with bringing their supply chains into compliance in the intervening years, as it the FDA still has to provide implementation guidance based on its interpretation of the law within the next 12 months. Within two years the agency also needs thrash out a waiver process by which companies could become exempt from the traceability regulations of the DQSA.

The FDA has already provided some guidance on the nature of the standardised numeric identifier that needs to be placed on packs, but it still has to consider other factors.

For instance, the format of 'transaction information' as goods change hands through the supply chain (initially paper or electronic although ultimately electronic-only will be mandated) still needs to be established, and questions remain on how soon aggregation (linking the individually serialised pack to cartons, cases and pallets used in shipping) may be required.

The top three medicine wholesalers in the US - McKesson, AmerisourceBergen and Cardinal Health which are collectively responsible for the distribution of more than 90 per cent of the USA's $325bn-a-year prescription drug market - are said to be pushing for early use of aggregation and inference so that they do not have to break open cases to scan individual medicine packs.

The FDA is also required to collect input from stakeholders as it sets standards, and is reportedly planning a series of meetings in the coming months as it tackles the task.
---
Want our news sent directly to your inbox?

---
© SecuringIndustry.com
comments powered by

Disqus