3D-printed fake seals used to mask cargo thefts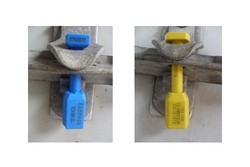 Cargo thieves have used 3D printers to make fake security seals to hide when a shipment has been compromised.

In some cases the cloned seals are so ingenious they even match the identification numbers on the original, according to third-party logistics organisation SpedLogSwiss, which reports an incident in which the scam was used in the theft of a pharmaceutical shipment.

The original manufacturer and carrier seals (pictured) were placed on the shipment and - upon arrival at the customers - appeared to be still intact. Once the seals were removed and the shipper opened it was discovered that most of the cargo was missing. Further investigation revealed the seals were counterfeits.

"The advantages of this technology have already been discovered by the organized crime," says SpedLogSwiss, which notes that some 3D printers can prepare the fake seals in as little as 10 minutes.

The organization has issued a circular describing the incident in order to raise awareness of the issue.

According to freight security specialist Freightwatch International, there were just over 500 thefts in the Europe, Middle East and Africa (EMEA) in the second quarter of 2015.

Belgium, Germany, the Netherlands, France, the UK, Austria, South Africa, Spain and Russia topped the list of countries affected, with electronics, clothing and accessories, food and drink the most stolen product categories.
---
Want our news sent directly to your inbox?

---
© SecuringIndustry.com
comments powered by

Disqus