Anti-counterfeit technology news in brief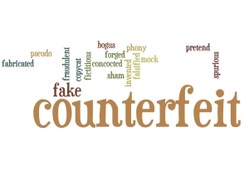 Product and technology updates from De La Rue, ITW, Applied DNA Sciences, InkSure Technologies, Covectra and Kezzler.

Currency printer and De La Rue has won a UK Queen's Award for its Optiks anti-counterfeit technology for banknotes, which comprises "super-wide security threads and the associated paper making process", according to the company. Eleven countries have already adopted Optiks into their notes, including most recently Iceland and the Solomon Islands. The company announced the award as its technology centre in Overton, Hampshire, was officially opened by the Duke of Kent. The unit will undertake the development of creative, novel and innovative features for use across its range of security products and services.

Illinois Tool Works has signed an agreement with Nanotech Security that will see the latter's KolourOptik platform added to ITW's suite of security solutions. KolourOptik uses advanced nano-structures imprinted on a material's surface to secure and authenticate products. The companies say the technology has a variety of security and anti-counterfeiting applications, from banknotes and passports to consumer electronics, as well as brand identity for high value items.

Supima - a trade association representing Pima cotton growers in the US states of Arizona, California, New Mexico and Texas - has started using Applied DNA Sciences' DNA marker technology to protect the luxury cotton fibres from counterfeiting and blending. The project has kicked off with APDN's recently-launched Signature T marker being applied to "millions of kilograms" of cotton at a major grower that males use of the Supima brand name. "Users of American Pima will start to be able to prove its identity and originality using a forensic lab test," said APDN in a statement. The Signature T technology was developed by APDN specifically for textiles and apparel.

InkSure Technologies has completed a pilot in China applying its taggant and reader technology to products in the fast-moving consumer good (FMCG) sector. The goods can now be authenticated at any point in the supply chain, including and most importantly at point-of-sale, according to a company press release. The technology supplier has also taken various steps to make sure its authentication technology is not reverse engineered. For example, the quality assurance (QA) on the production line is automated and monitored by InkSure personnel outside of China. "Doing business in China comes with a unique set of challenges but we have taken steps to protect ourselves and our clients so that they can be confident that their authentication solution does not fall prey to the thing it is trying to protect," said Tal Gilat, InkSure's president and chief executive.

US brand protection specialist Covectra has been awarded a software certification mark from GS1 for its Authentitrack serialisation database and event repository. The EPC Information Services (EPCIS) certification demonstrates that the company's that software products have been tested and will work in predictable ways within the overall architecture of the Electronic Product Code (EPC) network. "EPCIS Certification is an extremely significant milestone for Covectra, particularly as we expand into international markets with companies who have tasked us to implement track and trace and ePedigree within their supply chains," commented the company's president and chief executive Steve Wood.

Kezzler has launched Varder, a traceability and warehouse management platform that is spearheading an expansion into the produce industry and other sectors - such as consumer goods - in addition to the company's existing presence in pharmaceuticals. Varder is designed to provide comprehensive information on the harvesting, processing, storage, distribution and sale of fresh produce greatly enhancing supply chain visibility and overall process efficiency. Every item is marked with a unique identifier that allows for individual-level tracking and management.
---
Want our news sent directly to your inbox?

---
© SecuringIndustry.com
comments powered by

Disqus