Six arrests in Spain and UK as counterfeit medicine ring is smashed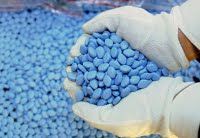 Six people suspected of involvement in a counterfeit medicines ring have been arrested in Spain and the UK, said Europol today.

Around 300,000 doses of fake medicines, including copies two brandname erectile dysfunction drugs - Pfizer's Viagra (sildenafil) and Eli Lilly's Cialis (tadalafil) - as well as number of generic medicines were seized in the raid, known as Operation Tribulus.

House raids and subsequent arrests at the end of last week in Spain (netting four people, including one Spanish national, one Dutch and two Romanian citizens) and the UK (two British citizens) were the result of an international police operation spanning several months, according to Europol.

"They were the most important individuals in the network, but other arrests could follow," said Europol spokesman Soren Pedersen in an interview with Agence France Presse.

According to Europol, the members of the criminal gang were importing fake pharmaceuticals from Asia - mainly China and Singapore - and distributing them via the Internet to customers throughout Europe.

The operation was spearheaded by Spanish police in the southeastern city of Murcia, with assistance from the authorities in the UK and Cyprus. Also collaborating with the police was the UK MHRA, the Financial Intelligence Unit in Cyprus, the Spanish drug regulator (AEMPS) and the manufacturers Pfizer, Eli Lilly a Sanofi.

"Unlicensed, untested and potentially laced with dangerous filler ingredients, fake medicine can put users' health and even life at risk," said Europol.
---
Want our news sent directly to your inbox?

---
© SecuringIndustry.com
comments powered by

Disqus