FDA publishes SOP on pharma cargo thefts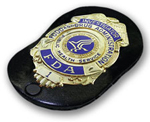 The US Food and Drug Administration has published a standard operating procedure (SOP) for determining its response to cargo thefts, saying it is "very concerned" about the problem.

Although recent figures suggest that pharmaceutical thefts actually declined in the US in 2011, the FDA said it is important to have consistent procedures for "product removal from the market, public notice, and handling medical product shortages".

Moreover, the new document also makes pharma companies' responsibilities absolutely clear, noting that drugmakers have a duty to report pertinent information about a theft, including the type, amount and dosage form of product taken, storage and handling requirements, how much of the material has legitimately entered the supply chain, tampering protections and the risks posed by the product if mishandled.

Companies will also have to advise of the potential for the product to re-enter the legitimate supply chain, and any mitigating factors taken to identify stolen material and prevent re-entry. If a firm's response is considered inadequate the FDA reserves the right to issue its own notification to the public.

There were 36 incidents involving pharmaceutical shipments last year in the US, down from 49 in 2010, while the average value of lost shipments shrank from $3.78m to $585,000.

---
Want our news sent directly to your inbox?

---
© SecuringIndustry.com
comments powered by

Disqus