Anti-Counterfeit Packaging Technologies Market Forecast 2014-2024 & Future Prospects for Leading Companies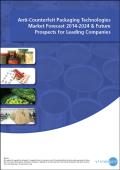 Publication date: 30/01/2014
Number of pages: 204
Pricing:

Single user license: £1,799
Departmental (5 users): £2,999
Company wide: £4,999
Global site: £6,999


For general enquiries, or to order this report, please either email us

here

, call us on +33561015287 or complete the 'enquiry' form on the right. A member of our team will
respond promptly to your request. Thank you.
---
Report Details

Anti-counterfeit packaging technologies - discover trends and segments with the highest revenue potential
What does the future hold for the anti-counterfeit packaging technologies market? A brand new report shows you potential revenues to 2024, assessing data, trends, opportunities and prospects there.
This 204 page report provides 116 tables, charts, and graphs. Discover the most lucrative areas in the industry and the future market prospects. You will see financial results, interviews, trends, opportunities, and revenue predictions.
Forecasts from 2014-2024 and other analyses show you commercial prospects
Besides revenue forecasting to 2024, this new study provides you with recent results, growth rates, and market shares. There you will find original analyses, with business outlooks and developments. Discover qualitative analyses (including SWOT), company profiles and commercial developments. Read full transcripts of four exclusive expert opinion interviews from industry specialists informing your understanding and allowing you to assess prospects for investments and sales:
- Robert Sherwood, CPP VP Security Programs Management, Sekuworks LLC
- Andrew Gilbert, Business Development Director, Ingenia Technology
- Kent Mansfield, President, TruTag Technologies, Inc
- Christian Gross, Head of Packaging Technology and Artwork Services, Aesica Pharmaceuticals
You will find prospects for key submarkets
In addition to analyses of the overall world market, you will see revenue forecasting of 11 major submarkets to 2024:
Apparel anti-counterfeit packaging technologies
Handbag and wallets anti-counterfeit packaging technologies
Watches and jewellery anti-counterfeit packaging technologies
Pharmaceuticals anti-counterfeit packaging technologies
Electronic and electronic parts anti-counterfeit packaging technologies
Personal care anti-counterfeit packaging technologies
Optical media anti-counterfeit packaging technologies
Food anti-counterfeit packaging technologies
Beverages anti-counterfeit packaging technologies
Tobacco anti-counterfeit packaging technologies
Other anti-counterfeit packaging technologies
With this new investigation you will gain business research and analysis with individual sales predictions and discussions. You will find analysis of competition, as well as commercial drivers and restraints. See what is likely to achieve the most success.
What are the prospects in the leading regions and countries?
Events and progress worldwide will influence the market. In this study you will find individual revenue forecasts to 2024 for the leading regional and national markets:
North America
South America
Europe
Russia
China
Japan
India
RoW
Many opportunities exist within the anti-counterfeit packaging technologies market. Increasing consumer demand for secure packaging will continue to drive the market. Greater uptake of existing technology worldwide will also stimulate the industry and market.
Leading companies and potential for market growth
Overall world revenue for the anti-counterfeit packaging technologies market will reach $13.7bn in 2014, this report forecasts. Strong revenue growth is predicted from 2014 to 2024 and the research also shows you what organisations hold greatest potential. See profiles of 15 leading companies, including these:
3M
Aesica Pharmaceuticals
Alien Technology
AlpVision
Authentix
Avery Dennison
CFC International Corporation
Digimarc
Impinj
InkSure Technologies
Intermec
Sekuworks
TruTag Technologies
UPM Raflatac
Zebra Technologies
In general, a company profile gives you the following information:
Discussion of a company's activities and outlook
Recent financial results
Assessment of recent developments - mergers and acquisitions (M&A) and collaborations.
Discover capabilities, progress, and commercial prospects, helping you stay ahead.
What issues will affect the anti-counterfeit packaging technologies market?
This new report discusses issues and events affecting the anti-counterfeit packaging technologies market. You will find discussions, including qualitative analyses:
A growing demand for secure packaging
Reformation on laws and regulation
Ineffective, or lack of IP rights and custom controls
Lack of infrastructure in developing regions affecting efficiency of existing technologies
Rapid growth of world trade led by globalisation
You will see discussions of technological, commercial, and economic matters, with emphasis on the competitive landscape and business outlooks.
How the Anti-counterfeit Packaging Technologies Market Forecast 2014-2024 & Future Prospects for Leading Companies report helps YOU
In summary, this 204 page report gives you the following knowledge:
Revenues forecasts to 2024 for the overall world anti-counterfeit packaging technologies market and 11 submarkets - discover the industry's prospects, finding promising places for investments and revenues
Assessment of 15 leading companies, and others, discovering activities and outlooks
Market forecasting to 2024 for the leading regional and national markets - North America, South America, Europe, Russia, China, Japan, India and RoW.
View opinions from the publisher's survey, seeing interviews with authorities
Investigation of competition and opportunities influencing sales
Discussion of what stimulates and restrains the anti-counterfeit packaging technologies market
You will find quantitative and qualitative analyses with independent predictions. You will receive information that only this specific report contains, staying informed with this invaluable business intelligence.
Information found nowhere else
With this survey you are less likely to fall behind in knowledge or miss any opportunities. See how your research, analyses, and decisions can benefit. Also see how you can save time and get recognition for commercial insight. This study is for everybody needing commercial analyses for the anti-counterfeit packaging technologies market, including data, trends and predictions. Please order
your copy
of this report now.