Neri BL 400 range of labelling and printing machines for pharmaceutical serialisation
Author:
Neri (Marchesini Group)
Document type & format:
Brochure / .PDF file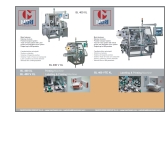 Abstract:
This brochure presents Marchesini Group's full range of BL400 labelling and printing machinery with incorporated track & trace technology. Produced by "Neri", one of the seven companies which form part of the group, these machines benefit from a user friendly interface, easy maintenance set-up and demonstrate the massive efforts made by Marchesini Group towards the theme of pharmaceutical serialisation.
To download this product brochure, please complete the form below:
(
all fields required
)
This download service is provided free of charge to SecuringIndustry.com readers. However in order to provide this facility at no cost, your information will be shared with the document owners who may wish to contact you to clarify your interest in their products (or services). Please note that Securing Industry Ltd. declines all responsibility for resulting communication between parties.
Click here
to access our full Privacy Policy.