GSK finds counterfeit painkiller in South Africa
30-Jul-2012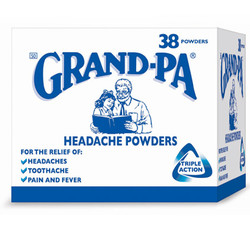 GlaxoSmithKline is recalling two batches of a powdered pailkiller in South Africa after discovering an illicit production operation making counterfeit versions of the product.

The product - called Grand-Pa - is a long-established and almost ubiquitous brand in South Africa and contains a combination of aspirin, paracetamol and caffeine. GSK is recalling two batches of Grand-Pa in 38-count cartons (pictured), equivalent to around 80,000 units.

The first batch (with the number 309339) was released in September 2011 while the second (314020) shipped in March, according to an article in South Africa's Independent newspaper. Other batches will remain on the market, said GSK.

An illegal manufacturing unit was discovered in Oranjeville, a city in the Free State province of South Africa, while fake versions were discovered circulating in the Vaal area, Tembisa township and Limpopo province.

"The affected product should not be used as counterfeit medicines are not subject to the rigorous safety and quality checks by GSK," said the company in a statement, adding it was in the process of testing the counterfeits at its UK laboratories to determine their constituents.

Consumers can identify the fakes from spelling mistakes on the packaging, such as the use of "kors" in place of "koors" in the Afrikaans portion of the packaging, which is also printed in English.
---
Enjoyed this article? Subscribe to our free newsletter here
.
---
© SecuringIndustry.com