GlaxoSmithKline adopts Sproxil's SMS tech for Nigeria
GlaxoSmithKline has become the latest drugmaker to sign up to Sproxil's text-message based verification system for pharmaceuticals, adding the codes to a widely-used antibiotic product that sells around 2 million units a year in Nigeria.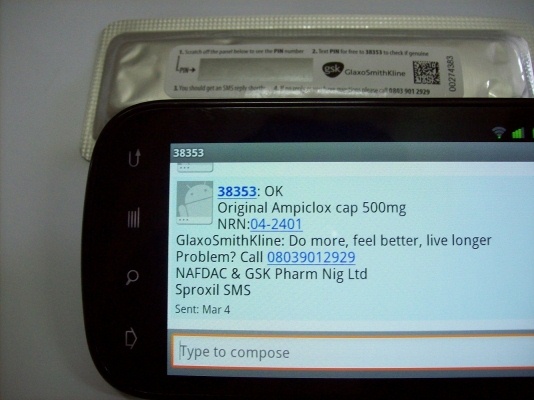 Sproxil's Mobile Product Authentication (MPA) codes are steadily being added to all blisters of GSK's Ampiclox 500mg (ampicillin plus cloxacillin) product in circulation in Nigeria, and coded packs are already widely-available, according to SecuringPharma.com sources in the country.

Sproxil is thought to have won the tender for its SMS-verification technology in competition with other technology vendors.

The initial roll-out with Ampiclox is seen as an initial foray into SMS-based verification for GSK, and it has been predicted that - if successful - the scheme will be rolled out to additional products and also into additional markets in Africa.

On a global basis GSK has been investing in upgrades to its pharmaceutical packaging lines to allow for the implementation of serialisation, and the latest development suggests it also sees potential in using different types of serialisation technology in securing its products in emerging markets.

Ashifi Gogo, Sproxil's chief executive, confirmed that GSK is now making use of Sproxil's MPA platform on Ampiclox but would not be drawn on any additional details of the project.

Speaking to SecuringPharma.com during a tour of African nations including Ghana and Kenya, Gogo noted that the company is now planning to expand into additional markets, with the help of the recently-announced $1.8m funding from an undisclosed investor (see Sproxil wins $1.8m in funding, expands into India).

Subsidiaries are planned in other African markets, he said, while a roll-out into India makes a lot of sense, not only to serve the needs of the domestic market but also to address India's vast medicine export industry.

Given that many medicines sold in African countries originate in India, it is a natural progression sense to introduce Sproxil's technologies to India's exporting drugmakers, he said.
---
Enjoyed this article? Subscribe to our free newsletter here
.
---
© SecuringIndustry.com
comments powered by

Disqus