Chinese police make arrests in fake wine case
22-Aug-2012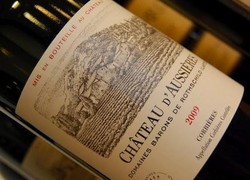 Chinese police have reportedly arrested counterfeiters who sold fake Chateau Lafite Rothschild for almost 100 times its actual value.

Police arrested six people and seized more than 4,000 bottles of the counterfeit wine after being tipped-off about the activity, China Daily reports. Packaging machinery, wooden boxes and fake labels were also seized.

The counterfeiters were allegedly taking unlabelled bottles of wine from the Hebei and Shandong provinces and making them look like Chateau Lafite Rothschild. After relabelling the value of the bottles soared from 80 yuan ($13) to 7,000 yuan.

Wine counterfeiting has become big business in China, with the red Bordeaux Chateau Lafite Rothschild a particular target because of its status and popularity as an expensive present.

"There is more Lafite 82 in China than was produced in France. So you really have to be wary if you find any of that in China," Romain Vandevoorde, head of wine importer Le Baron, told Agence France Presse.
---
Enjoyed this article? Subscribe to our free newsletter here
.
---
© SecuringIndustry.com