US Defense Department issues final rule on counterfeit parts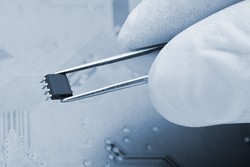 The US has finalised its rule for preventing counterfeit electronic parts being used in military vehicles and equipment, making a number of changes from its earlier draft.

The final rule - which can be read in the Federal Register in a document that includes an extensive analysis of response filed during the comment period on the legislation - ends speculation that the requirements might be extended to non-electronic components sourced for use by the Department of Defense (DoD).

Meanwhile, it revises the definitions of counterfeit and suspect electronic parts to include a clear intent to deceive, in order to avoid unintentional production or quality to failures to be brought into scope, and introduces a definition for an obsolete part.

It also says that "suspect counterfeit electronic part" include those for which there is "credible evidence" and "reasonable doubt" about the authenticity of the item and gives pointers on the criteria that could activate the obligations for detection, avoidance, reporting and quarantine.

The revised version also deletes the definition of "legally authorised source" as being too ambiguous and - in its place - lists the entities that are authorised to produce a genuine item, i.e., the original manufacturer, current design activity, or an authorised aftermarket manufacturer.

Traceability: but not necessarily unique IDs

Arguably most importantly, the final version introduces a formal requirement - for the first time - that defense contractors implement risk-based procedures to monitor, detect and eliminate counterfeit parts from supplies destined for use by the military, as well as some degree of traceability for all parts and absolute traceability for "mission-critical" components.

The DoD has not specified any particular technology for traceability, although the use of serial numbers as a unique item identifier would seem like a sensible way to tackle the issue of tracking goods through the supply chain and was proposed by some commentators.

Contractors must also apply the same risk-based systems when using subcontractors - and critically commercial off-the-shelf (COTS) suppliers - as well as demonstrate compliance with the requirement when they bid on federal procurement tenders. Failure to do so means they risk foregoing payment, the loss of contracts or face rework and replacement charges.

The final rule came into effect on May 6 and contractors must take immediate steps to comply with the requirements.

While the requirements have been scaled down a little from the earlier draft, it remains to be seen whether the changes will ameliorate concerns that some suppliers may be harmed financially by the cost of compliance and - as has been warned in some quarters - be forced off the market.

Spreading the cost through the supply chain - including prime contractors, subcontractors and off-the-shelf items - may alleviate that risk.

One company that has benefited from the DoD's supply chain security initiatives is Applied DNA Sciences, whose botanical DNA marking technologies has been employed by upwards of 28 suppliers to meet the requirement for monitoring and detecting counterfeits.

"This is the day when federally required anti-counterfeiting processes and technologies became, not just law, but law with teeth," said APDN's chief executive Dr James Hayward.
---
Enjoyed this article? Subscribe to our free newsletter here
.
---
© SecuringIndustry.com
comments powered by

Disqus